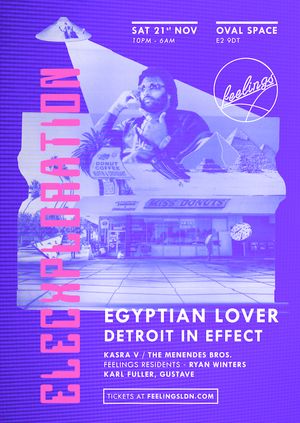 Feelings: Elecxploration with Egyptian Lover, Detroit In Effect and more
21st Nov 2015 9pm - 5am
Add to Calendar
Event Details
ONLINE SALES NOW CLOSED ON THIS OUTLET

Online tickets still available from the Oval Space website until around 9pm
Link: http://www.ovalspace.co.uk/events/view/feelings-elecxploration/
We've also held back plenty on the door available from 10pm at Oval Space!
It's gonna be A LOT!
Can't wait to see you all!
Feelings return this Autumn with two seminal dance music acts alongside a support of exciting new acts and our usual residents at one of East London's most incredible club spaces, Oval Space in Bethnal Green.
A seminal player in the early hip hop and electro scene, Greg Broussard AKA Egyptian Lover has been rocking parties around the globe for 30 plus years and is showing no signs of slowing down with a new full length album due ahead of the show in early November. Pioneering the sound which would later become known as electro, the undisputed king of the 808 has worked has been around the block working with Uncle Jamm's Army and Jamie Jupitor in his early days to more recently the likes of Jamie Jones, Soul Clap and more, there is no doubt he will have the place jumping.
He will be joined by seminal Detroit electro act Detroit In Effect for an extremely rare London appearance. There aren't many who can resist the rhythms and hooks that he throws down and the attitude he has brought represents that ghetto groove in its purest unfiltered form. With a long history of musical appreciation and creation with influences springing from Gospel through Hip Hop to Techno and Miami Bass, Detroit In Effect bring it like so few can. Irresistible music with enough dirt to satisfy the sleaziest party animal or clarity of tone to inspire the most informed minds.
Finishing the bill we've got Feelings regulars Kasra V, The Menendez Bros and our residents Ryan Winters & Karl Fuller.
£5 super early bird tickets on sale now!